Good morning Bear Class!
We'd like you to practice singing our song for the NHS staff please 'We are, we are, thankful – NHS, NHS! We are, we are, thankful! – NHS, NHS! We are, we are, thankful -NHS, NHS!'
Topic
Paddington Bear likes to travel the world and to do this he needs a passport. We would like you to create your own passport. You had all been practicing drawing your self portraits in class last Term and were doing really well and looking at your reflection in the mirror to help draw all your features. Your picture doesn't need to be too big for a passport so I would suggest you ask your grown ups folder some A4 paper into A5 size or smaller. You will then need to write your name, your age and where you live; for example – Great Yarmouth, so people at an airport know who your are. Where else would you have to show our passport I wonder?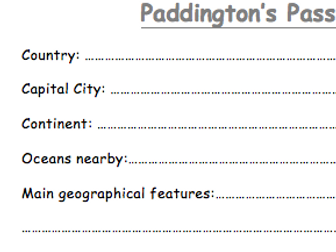 Geography – UTW
As we've said, Paddington Bear likes to travel the world. Where in the world would you like to travel? Can you have a look on a map to see if you can find the destination on the map. See if you can find any of the places Paddington Bear has visited too.
Science
Grow a rainbow for the NHS –  We thought it would be nice it you could create a rainbow out of kitchen paper, coloured pens and water to hold or display during our film on Thursday.  Here's a link to show you a step by step guide on what to do –  https://medium.com/drax/grow-a-rainbow-b62cfcd79df2
Physical
Here's a yoga video for you to complete with your families because if the weather is like yesterday you probably won't want to go out for your daily exercise.
Have a lovely day everyone!
See you at zoom school,
Miss Thrower & Mrs Pollard